New Designers - Multi Access
Business Design Centre, London.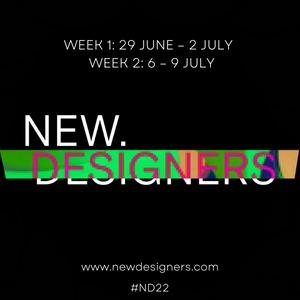 NEW DESIGNERS 2022

3,000 designers //
Two weeks //
Every corner of design creativity

Full of disruptive thinking, ambitious ideas and fresh approaches, New Designers presents the work of 3,000 hand-picked graduate design talents from around the country. Hosted at London's Business Design Centre 29 June - 2 July & 6 July - 9 July, the show explores every discipline of modern making.

The work on display is complemented by an extensive range of design-focused talks and events, a hands-on printing workshop and prestigious Awards programme.

Great design shapes the human experience, and new perspectives push us forward. Join us for creative exchange, collaboration and to celebrate the future of design.


More information about New Designers - Multi Access tickets
If you have already purchased your ticket and have a query, please contact See Tickets here